Pippi Longstocking by Astrid Lindgren

"Oh, my goodness, you must have your birthdaypresents too!" she said.
"But it isn't our birthday," said Tommy and Annika.
Pippi stared at them in amazement. "No, but it's my birthday, isn't it? And so I
can give birthday presents too, can't I? Or does it say in your schoolbooks that
such a thing can't be done? Is it something to do with that old pluttifikation that
makes it impossible?"
About the book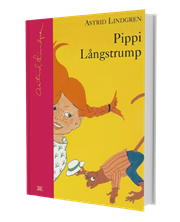 Pippi Longstocking is a colorful and rebellious girl who creates herself a life where everything can be silly and fun. In this story we get to take part in a birthday party arranged in Pippi-style, and invited to the party is of course Tommy, Annika, Little Buddy and Mr Nilsson. And it always happens something exciting when Pippi is in the picture!

Pippi Celebrates her Birthday is a stand-alone chapter published in Do You Know Pippi Longstocking (various editions).
About the Author
Astrid Lindgren (1907-2002) is one of Sweden's most famous and one of the world's best children's book writers. Her books have been translated into 95 different languages and they have sold over 145 million copies worldwide. She got her official breakthrough in 1945 with a story starring Pippi Longstocking.
Astrid Lindgren has won numerous awards and she has also been appointed Honorary Doctor at the University of Warsaw (1989) and at the University of Linköping (2000). The social debate involved Astrid deeply, especially issues concerning children, animal welfare and refugees, and she often took a stand publicly and called for improvements in these issues.