Everybody Counts by Kristin Roskifte
Everybody counts is an innovative seek-and-find book written by the author and illustrator Kristin Roskifte. The title brings a duality by being both a counting book and at the same time emphasizing that every human being in the world counts and has a value.
"Seven and a half billion people on the same planet. Each of them has a unique history. Everyone counts. One of them is you!"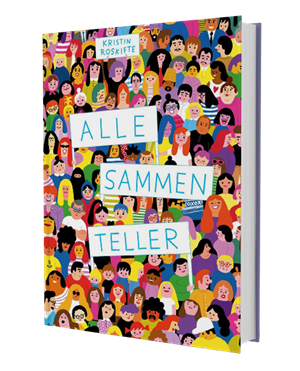 The stylized illustrations and the colourful people who fill the book increase with the pages. This is not just a counting book where children can learn to count, it is also a book that creates space for conversations about the big issues. Each person has their own story and in the human sea created in the book, this becomes especially clear. In the world we live in, there is a rich diversity of people and stories. These people have an inner and an outer world that simultaneously connects them, but which also separates them from each other and makes them individuals. Roskifte celebrates this diversity and spectrum of individuals shown in the book and the world that we are a part of.
Kristin Roskifte won the Nordic Council Children's and Youth Literature Prize for the book Everybody counts in 2019.