Babette's Feast by Karen Blixen
We are sorry to inform that this year we will not be able to provide a text for Evening dusk in English due to the lack of permission to distribute the English translation of the text.
About the book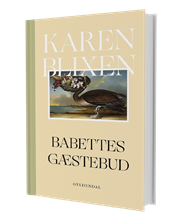 Babette's Feast is a story of a French woman, who ran from a Revolutionary Paris in 1871, and is serving as a housekeeper in a small village in Northern Norway. Babette, whose culinary arts exceed the requirements of the service, faithfully prepare simple meals to two aging sisters who serve their lives to God. But one day Babette gets a letter that breaks her everyday routines. She wins 10 000 francs on a lottery ticket, which has long been her only link to France. Babette decides to put all the profits and all her forces into creating a luxurious meal - it will be a treat that everyone will remember for a long time…

Babette's Feast is one of Karen Blixen's most famous books and, despite the small format, belongs to the Danish literature's great work. The book was filmed in 1987 under the same name and won an Oscar in 1988 for best foreign film.
About the Author
Karen Blixen (1885-1962) is a world-renowned Danish author and part of Denmark's cultural canon. She wrote both in Danish and English, and under the pseudonyms Isak Dinesen, Osceola and Pierre Andrézel. She was born in Rungstedlund in Denmark but lived a large part of her life in Africa, where she ran a coffee plantation with her husband Baron Bror von Blixen-Finecke. Her marriage was not happy, and the coffee plantation went bankrupt in 1932, but two years later she got her breakthrough as an author with the story Seven Gothic Tales. It is still one of her most famous works together with the novel Out of Africa. Babette's Feast was published in English in 1950 and in Danish in 1952.

Karen Blixen was a driven and stylish novelist and her stories are complex and timeless. She was nominated several times for the Nobel Prize in Literature, but without luck. For the unfamiliar reader, her texts can feel heavy and difficult, but don't be intimidated - we can all become wiser on ourselves and on life by reading Karen Blixen.