History
Nordic literature week - from an ambitious idea to a strong tradition
The Nordic Literature Week (originally the Nordic Library Week) has been a cultural project for over 20 years, aimed at spreading the joy of reading, literature, and the Nordic tradition of storytelling, across borders. What started as an ambitious idea in 1995 has, throughout the years, become a yearly event with approximately 160,000 young and adult participants.
A dream of empowering the Nordic tradition of storytelling
In August 1995, the newly established PR-organization for Nordic Libraries arranged a brainstorming seminar in Copenhagen, concluded by a meeting where the participants agreed to continue with the idea of a common Nordic manifestation at the libraries. The desire was to make the Nordic tradition of storytelling more visible, and spread Nordic literature in all of the Nordic countries. The PR-organization put together a working group with the Norden Association to continue with the plans. The concept of the project is based on the same idea now as in 1995; during the darkest time of the year in the Nordic countries, we light a candle, and gather to read and listen to literary stories.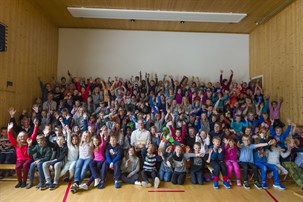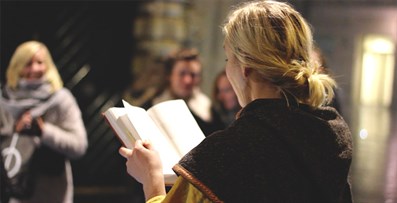 Credits: Geir Egil Skog
Nordic words
The first ever Nordic Library Week was held in 1997 with the theme 'Nordic words'. Today, the project goes under the name of Nordic Library Week and is administered by the Confederation of the Nordic Associations with financial support from the Nordic Council of Ministers.
Reading aloud for children at dawn
When the Nordic Library Week was arranged for the first couple of years, the project was aimed at an adult audience. In 1999, Emil of Lönneberga was chosen as the book to read aloud, and the project was expanded to also include children. The last couple of years, more daycare institutions have registered for the Nordic Literature Week, and we continue working towards allowing the youngest to take part in the reading aloud. Institutions with young participants continue to increase, and today schools are the most commonly registered type of institution for the Nordic Literature Week.
Nordic Library Week crosses even more borders
Since the Nordic Library Week's first edition in 1997, the project has reached beyond the Nordic borders. The project has been very popular in the Baltic countries, and in 2016 more than 1000 schools and libraries were registered from the three Baltic states.
In 2016, the Nordic Literature Week had more than 2000 registered institutions, and approximately 165,000 participants. The vast amount of participants indicates that the project's original idea from 1995 is still very relevant, and that reading aloud attracts both children and adults alike.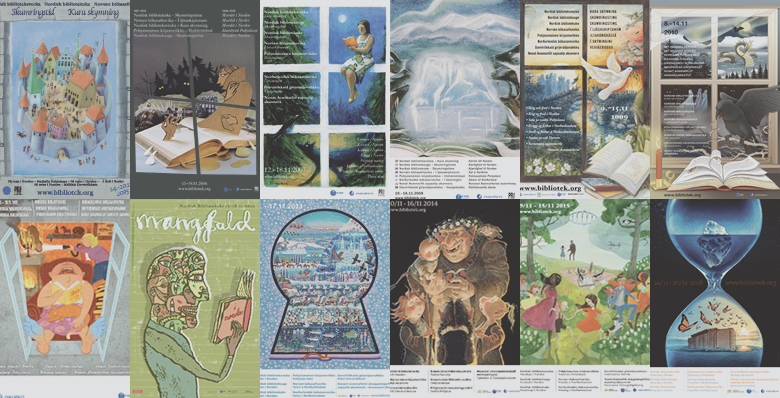 Posters from previous years' Nordic Literature Week.

AN OVERVIEW OF THE THEMES THROUGHOUT THE YEARS:


- Islands in the Nordics (2017)
- The future in the Nordics (2016)
- Friendship in the Nordics (2015)
- Trolls in the Nordics (2014)
- Winter in the Nordics (2013)
- Diversity in the Nordics (2012)
- Humor in the Nordics (2011)
- The magical Nordics, Diversity (2010)
- War and peace in the Nordics (2009)
- Love in the Nordics (2008)
- The women in the Nordics (2007)
- The murder in the Nordics (2006)
- On a journey in the Nordics (2005)
- Once upon a time in the Nordics (2004)
- The Nordics and the sea (2003)
- The Nordics has the word (2002)
- Words and notes in the Nordics (2001)
- The child in the Nordics (2000)
- Legends and myths before and now (1999)
- Humor in the Nordics (1998)
- Nordic words (1997)