The Murderer's Ape by Jakob Wegelius
The Murderer's Ape invites you into a fascinating universe where unexplained murder mysteries, a human ape, and enigmatic mysteries rage. The story stretches from a dark harbour in Lisbon, across the oceans, to the lavish and luxurious courts of Indian Maharaja from a bygone era.
"I leaned against the chimney and looked out over the huge city. Thousands of bright spots gleamed in the black night. It could have looked safe and friendly. But not for me. I was alone now. The dangers lurked everywhere."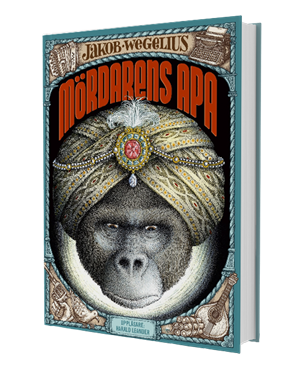 The Murderer's Ape is a continuation of the critically acclaimed book The Legend of Sally Jones. The ape Sally has this time occupied the narrator's position and writes freely about her adventurous discoveries on her typewriter from 1908. The story is told as a travelogue and a detective work, with a rich personal gallery where each chapter begins with a humorous image and imaginative illustration in black and white. Onboard the Hudson Queen cargo ship, through the Far East, over far-reaching latitudes and dangerous waters, the reader is given access to stories of dark secrets, greed and evil, unexpected friendships, hope, forgiveness, and reconciliation.
Jakob Wegelius won the Nordic Council Children's and Youth Literature Prize for the book The Murderer's Ape in 2015.
The extracts:
A Nocturnal Drama
The Murderer's Gorilla