Sophie's World by Jostein Gaarder
About the book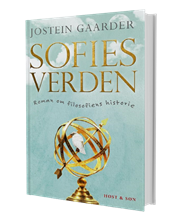 One day, the 14-year-old Sophie gets a mysterious letter. It is written by the philosopher Alberto Knox, and it turns out to be the beginning of an introduction course in philosophy. Together with Sophie and Alberto we get to explore the great philosophical questions and in an understandable way make a journey in the history of Western philosophy. A journey that makes us think, ponder and ask and perhaps it will also give us a new view of existence and our world...
Sophie's World - A Novel about the History of Philosophy is an international bestseller. It has been translated into 53 different languages and printed in over 30 million copies.
About the Author

Jostein Gaarder (b. 1952) is a Norwegian teacher and author. He studied History of Ideas, Religion and Nordic Literature at Oslo University and worked afterwards as a teacher. Jostein Gaarder made his debut as a fictional writer with two short stories in 1982 and 1986. The book Kabalmysteriet 1990 won two Norwegian literature awards and he then strongly breakthrough with the novel Sophie's World. His books have a great focus on history of philosophy and religion for young readers and they have won numerous awards.