This year's work of art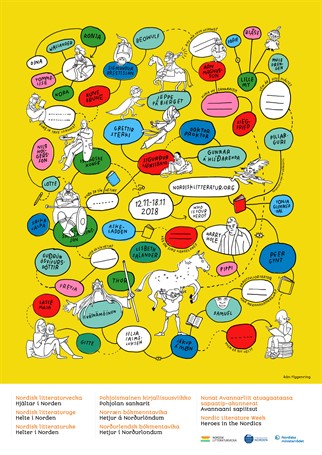 Write your own text on the poster
The poster for 2018 is illustrated by the Icelandic artist, Rán Flygenring. This year, Iceland celebrates 100 years of sovereignty, and the Nordic Literature Week marks the anniversary by having chosen an Icelandic illustrator as the year's artist.

Like this year's theme, the illustration is based on a selection of Nordic literary heroes, both in words and in pictures, and creates a mind-map where the different heroes are connected to each other despite coming from different books and different countries. The heroes range from traditional Viking heroes, to feministic heroines and unhappy anti-heroes. The illustration can also work as a riddle; can you figure out where all the names and people belong? - Rán Flygenring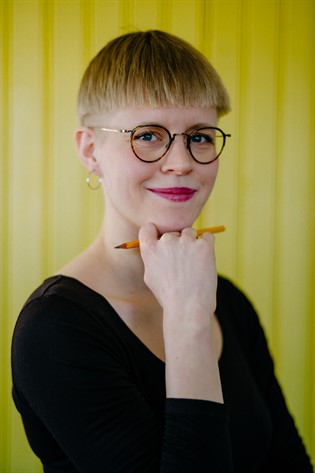 Rán Flygenring was born in Oslo, but grew up in Reykjavik. She studied graphic design at the Icelandic Academy of Arts, and finished her studies in 2009. She's a well-known artist in Iceland, and her work has been used to decorate large areas of Reykjavik. She has been nominated to, and won, a number of national and international awards for her popular illustrations. She has, amongst other things, received The Association of Icelandic Graphic Designers' gold award on several occasions, most recently in 2018 for the book 'Birds', which was a collaboration with the author Hjörleifur Hjartarson. The book was also nominated for the Icelandic literature prize in 2017, and Reykjavik's children's literature prize. Furthermore, Flygenring has been nominated for the Astrid Lindgren Memorial Award, the German Academy of Children's and Youth Literature Illustration prize, and Deutscher Jugendliteraturpreis 2013.
Read more about Rán Flygenring and see her popular illustrations here.
Photo: Sebastian Ziegler