Handbook for superheroes by Elias and Agnes Våhlund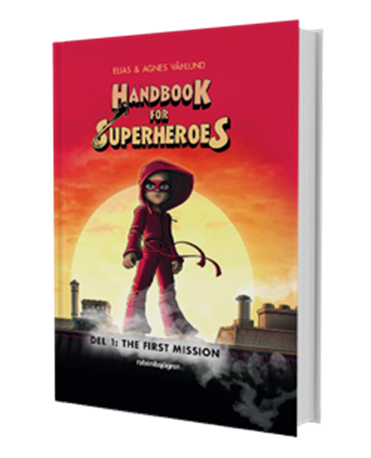 On one of the lower shelves, in a dark corner, in the most remote part of the library, was a book that seemed to glow. Handbook for Superheroes was written on its cover.
Now, Lisa knew there were no such things as superheroes in real life, still it was as if the book was talking to her, forcing her to pick it up and begin flipping through its pages.
She opened the book and soon realized that this might very well be the answer to all her prayers.

Lisa is forced to stay with her grandmother for a few months because of her mother's job. She is extremely unhappy in this new school where the gang of boys are constantly teasing her for having protruding ears. She falls asleep with her hands pressed against her ears every night, in the hope that they will eventually stop sticking out so much.
One day, when she is being chased by the boys like usually, she takes refuge in the library. There, she finds a book that is somehow glowing. When she pulls it out, the book turns out to be called 'Handbook for Superheroes', but strangely enough, it's not registered in the library records. The librarian whispers to Lisa that perhaps she was meant to keep the book - and that's when Lisa begins her journey to becoming the superhero, The Red Mask.
Lisa is a character many children can relate to, almost like a modern-day Pippi Longstocking with super powers. She learns that it is better to be strong and kind, than to take revenge on the bullies, as it can't lead to anything good. The character is inspired by one of the authors' at the time 9-year old daughter who was also bullied.
About the authors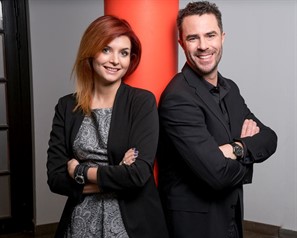 Elias Våhlund (born 1973) and Agnes Våhlund (born 1985) met in 2002 through a theatre production where Elias was an actor and Agnes a drawer. Together they have written Handbook for Superheroes: Elias writes with feedback from Agnes, and Agnes illustrates with feedback from Elias. The book, which is the first in a series of four, got off to an excellent start, and sold out even after a second round of prints. The second book also had to be re-printed before it even got published. The book has been translated into English, and sold to Iceland, Norway and Denmark. On top of that, film companies and studios have shown an interest in the book.
Besides being a children's author, Mr Våhlund is also a director, script writer, actor, stuntman, teacher and the director of a record label. He has started and runs a 3-year high school equivalent programme in circus, and a full-time education in stunt. Additionally, he has won a silver medal in the World Cup in artistic fencing for the UK, and is an honorary member of the British Academy of Fencing. Mrs Våhlund used to work as a graphic designer and photo editor, but now devotes all her time to illustrating.
Photo: Göran Segeholm